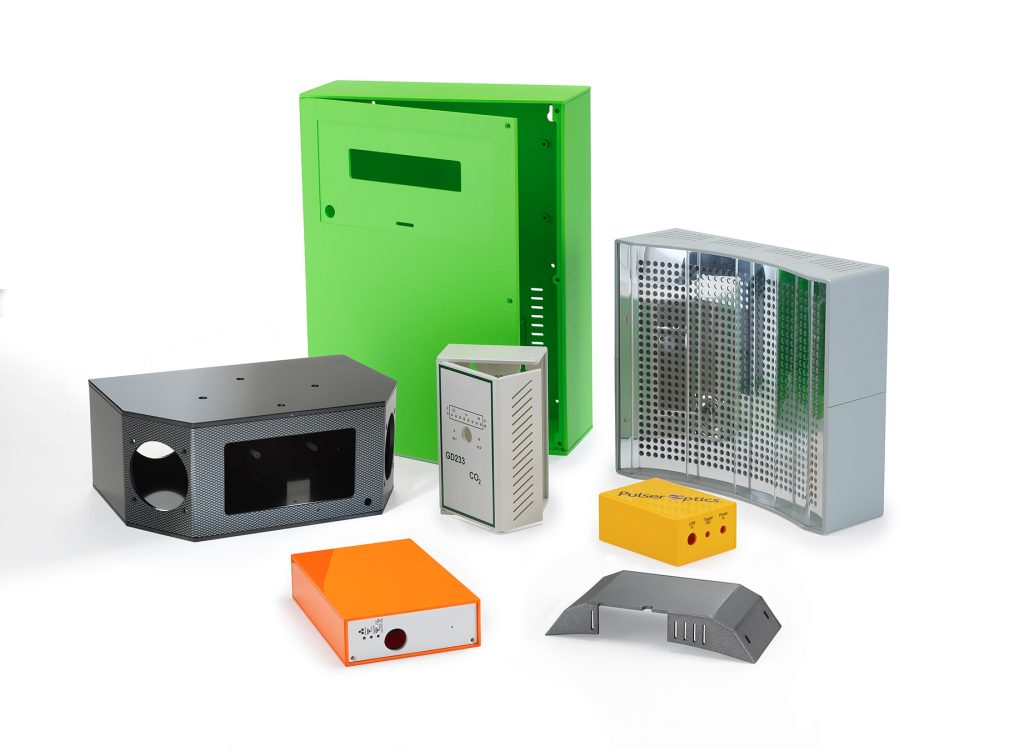 Since 1986 we have designed and manufactured custom industrial plastic enclosures and casings for a variety of commercial, industrial automation and control requirements.
Our robust enclosures protect wiring and cables, electrical equipment, and machinery controls from environmental conditions like direct sunlight and heavy rain. They also offer protection from impact and contaminants, whilst still being able to let through radio signals.
We can fabricate industrial plastic enclosures and cabinets in any shape, size, and configuration to meet your needs.
Check out some examples of bespoke industrial enclosures we have created:
---
Quick Turnaround Custom Industrial Enclosures
As a UK leading enclosure designer and manufacturer, we specialise in prototype development and small batch production runs with no minimum order requirements. Using our tooling-free fabrication process, we offer rapid turn-around from complete enclosure design, through prototype manufacture, to volume production and assembly services if required. 
We stock a wide variety of different coloured plastics made from ABS, polycarbonate, HIPS and acrylic materials. Our expert team can guide you on which material best suits your requirements. Custom features can include holes, cut-outs, mounting options, latching and hinge configuration, viewing windows, EMI/RFI solutions and weatherproofing.  Additionally, we provide a choice of digital or screen printing, RFI shielding and decorative paint finishes to your enclosure.
---
Why Use CDT for your Custom Industrial Enclosures?
Offer quality, cost-effective tailor-made enclosures that look good and perform as they should.
As enclosure specialists that only focus on plastic custom enclosure solutions, we have the in-depth knowledge to ensure your enclosure meets the specifications and avoids common pitfalls.
We combine technical expertise with outstanding customer care and deliver a speedy, proactive custom enclosure solution that is shipped on schedule.
Check out what our customers say about our custom industrial casings and enclosures.
---
Benefits of using Plastic for Industrial Enclosures
Plastic enclosures are perfect for many industrial and commercial applications. They are lightweight, durable, impact-resistant, fire-resistant and poor conductors of heat – able to withstand high temperatures. Also, aesthetically they can look stylish and can be made in a range of colours with digital or screen printing easily applied so they are 'on brand'.
Plastic enclosures can also be made to be weatherproof or waterproof/water-resistant and can withstand the harshest of environments.
Check out the pros and cons of plastic versus metal enclosures here.
So, whether you are looking for a one-off prototype or small to medium-run of commercial custom enclosures talk to us. We can help.
---
What Next?
We welcome customers and prospective customers to visit our facilities in Brackley, between Banbury and Milton Keynes. Come and visit us and get inspiration for your next commercial plastic enclosure project. You can see the process in action, meet our team of plastic fabrication experts and browse our extensive product gallery. Alternatively, we are happy to visit you to find out about your enclosure requirements.
Email your CAD file or drawing along with a specification to sales@cdt123.com or call us on 01280 845530 to discuss your requirements. Alternatively, contact us and we will be in touch.
---
Get an industrial enclosure quote today!
We'll put together a quote for your custom enclosure and work with you to get started on your project. Let's build something together.
---
See our case studies of bespoke industrial plastic enclosures and cabinets.
We pulled out all the stops to design, manufacture and deliver 500 stylish custom audio-visual plastic boxes in just 2 weeks for a new customer in London. We worked closely with the client to…
We were delighted to design, manufacture and assemble this robust precision tool for an existing client in the aerospace sector recently. We worked closely with the client to develop a prototype that was strong, and…
Having developed various electric vehicle (EV) charging enclosures over the years, we were the obvious choice to design and manufacture these robust weatherproof plastic enclosures for this new Midlands customer. (more…)