Need custom ABS Enclosures? Here at CDT, we fabricate custom ABS enclosures and casings for customers across the UK. We know that one size doesn't fit all and that off-the-shelf, standard boxes don't always do the job.
So instead, why not consider a custom-made ABS enclosure. There're no restrictions on colour, size, styling or the configuration of internal components. And using our tool-free fabrication method means you enjoy a rapid turnaround time; no expensive mould tool costs and flexibility in the design/prototyping stage. This flexibility is why ABS plastic is so commonly used in the world of electronics where box modifications are frequently necessary to accommodate connectors, switches, LEDs, etc.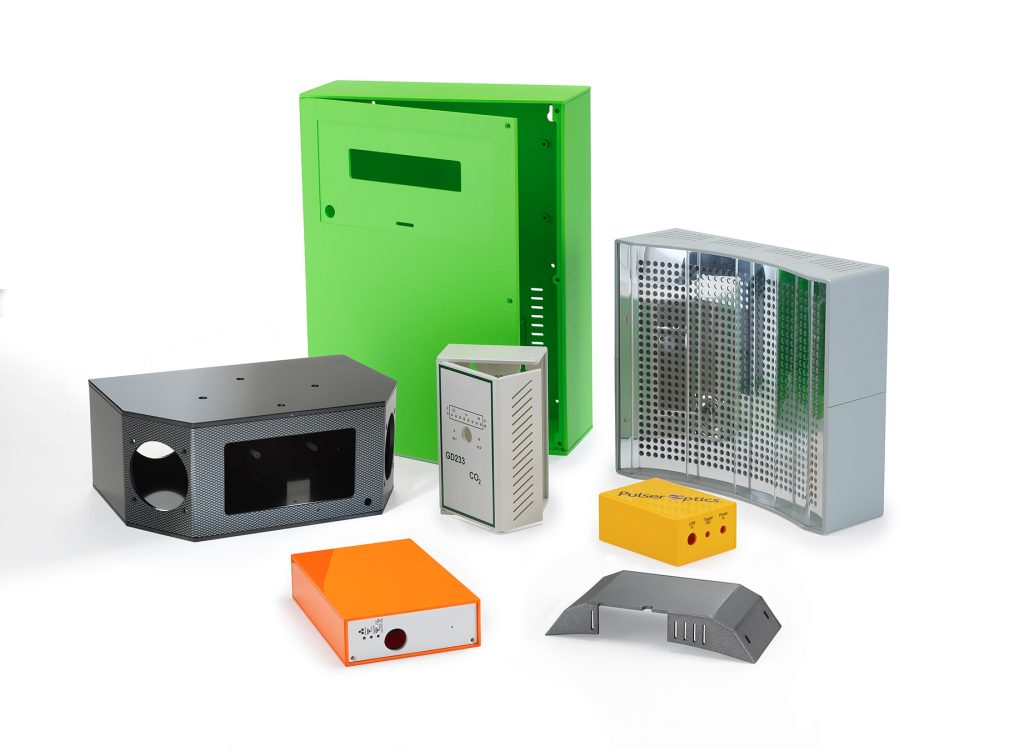 Check out our ABS enclosure case studies.
---
Why use ABS for Enclosures?
Acrylonitrile Butadiene Styrene, or ABS, is a thermoplastic polymer used for enclosures because it is a highly versatile, lightweight, robust plastic that can cope with all types of conditions. It's a tried and tested material that is impact resistant and durable, and be easily machined. It's also very cost-effective making it the popular, go-to choice for electronics, industrial and electrical enclosures.
Black ABS is especially durable outdoors and acrylic capped ABS is UV stable. Acrylic capped ABS colour options include gloss white, metallic silver, carbon fibre effect and charcoal grey (also called Nardo grey).
ABS is optimal with temperatures up to 75-80 degrees Celsius (we suggest a polycarbonate for higher temperatures). Also, it is worth noting in standard form ABS can only achieve a UL94HB fire rating. FYI UL94 V-0 is available in black and off-white but it is more expensive.
As an ABS enclosure manufacturer since 1986, we've used ABS plastic across thousands of enclosures we've developed.
Examples: waterproof boxes for electronics, din rail enclosures, rack mount enclosures, wall mount cabinet enclosures, screen enclosures, tablet enclosures, LCD enclosures, ABS enclosures, IP rated enclosures, clear plastic cases, PCB enclosure projects.
---
Safe Pair of Hands for your next Enclosure Project
As one of the UK's leading ABS manufacturers, our experienced design team works with you to design and prototype a custom enclosure to meet your requirements.
We fabricate high-quality ABS enclosures made to order. There are no minimum orders. We build anything from prototypes and one-off designs to small to medium batches of handheld, desktop, wearable and wall-mounted ABS enclosures.
We take the stress and uncertainty away as we work in partnership with you to develop your enclosure idea from concept to prototype. With our input, your finished enclosure is delivered on time and on budget without compromising quality.
So, for your custom-made electronics, electrical or Raspberry Pi plastic enclosure talk to us – we can help.
---
What Next…
We can come and meet you to discuss your project or you can visit us at our facilities in Brackley north of London near Oxford and Milton Keynes. Our team of enclosure experts can help you design and build the best custom enclosure for your requirements.
So, talk to us without obligation. We're happy to chat through your requirements and assess if our custom enclosures are a good fit for you. Call us on 01280 845530, or contact us, or email us at sales@cdt123.com.
---
Get an ABS enclosure quote today!
We'll put together a quote for your custom enclosure and work with you to get started on your project. Let's build something together.
---
'After being seriously nervous about the potential cost and complexity of commissioning our own plastic enclosures, we were frankly bowled over by CDT.  What a relief to work with a supplier which cares about its customers, and which also adds value at every step of the exercise.
CDT has done everything possible to guide us through the design and production process, sharing their expertise and offering useful suggestions to ensure that our new Musterd Universal Reader enclosure exceeded our expectations. Nothing was too much trouble – at each stage, CDT did its utmost to make sure that the design was right — and throughout, it felt to us like CDT was a part of our team.
As a very satisfied customer, I can highly recommend CDT for its friendly, expert and proactive approach to manufacturing custom electronics boxes. You'll be doing yourself a favour if you use CDT for your next prototype development.'
Steve R, Managing Director
Software Company, Oxfordshire