It's all in the name. At Custom Design Technologies we focus on the design and manufacture of custom plastic enclosures, casings, covers and boxes.
When you choose a custom, made-to-order plastic enclosure, case or box from us – you enjoy rapid turnaround times, no mould tool costs, and the quality that your product deserves. As leading UK experts since 1986 we take away the stress and uncertainty of developing your enclosure idea from concept to prototype.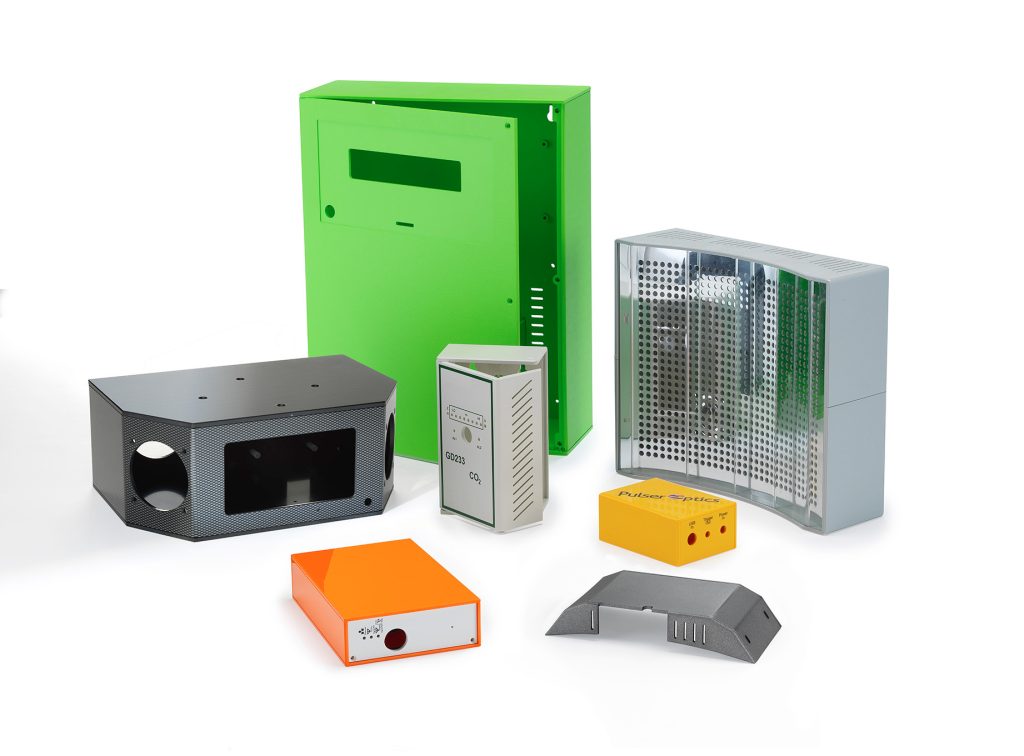 Check out our plastic enclosure case study gallery
---
Our services include
As a leading UK custom plastic design prototype manufacturer, we offer a complete fabrication solution for:
With our mould free / tool-less technology we offer no restriction on size or quantity, from concept design through to production and assembly if required. Going for a custom plastic design with us means greater flexibility to make changes at any stage of the process. For example: if you need to add an extra hole, or increase or decrease the size of the box – no problem.
See what our custom plastic enclosure customers say.
---
No MOQs for custom plastic design projects
At CDT there are no minimum order quantities for orders. We manufacture prototypes and small to medium batches.
FYI the maximum order quantity for custom plastic enclosures is usually dictated by price. The tipping point at which injection moulding becomes a viable, more cost-effective alternative to custom-designed enclosures depends on a variety of factors including design, materials used, size and the likelihood of changes in technology. This means that you are not still stuck with an expensive obsolete injection mould tool.
To ensure that your electronic, industrial or electrical components are soundly housed. Talk to the custom plastic design experts.
---
Why Use CDT for your Plastic Fabricated Enclosures?
Offer quality, professional enclosures that look good and perform as they should.
As enclosure specialists that only focus on plastic custom enclosures and boxes, so we have the in-depth knowledge to ensure your enclosure meets the specifications and avoids common issues.
We combine technical expertise with outstanding customer care and deliver a high-quality, custom enclosure solution that is shipped on schedule.
Check out our FAQs.
---
What Next…
We welcome old and new customers to visit our facilities in Brackley, between Banbury and Milton Keynes. Come and visit us and get inspiration for your next custom plastic project. You can see the process in action, meet our team of plastic fabrication experts and browse our extensive product gallery. Alternatively, we are happy to visit you to find out about your enclosure requirements.
Email your CAD file or drawing along with a specification to sales@cdt123.com or call us on 01280 845530 to discuss your requirements. Alternatively, contact us and we will be in touch.
---
Get a custom plastic enclosure quote today!
We'll put together a quote for a plastic enclosure and work with you to get started on your project. Let's build something together.
---
Check out this custom, plastic waterproof enclosure which we manufactured for an existing…