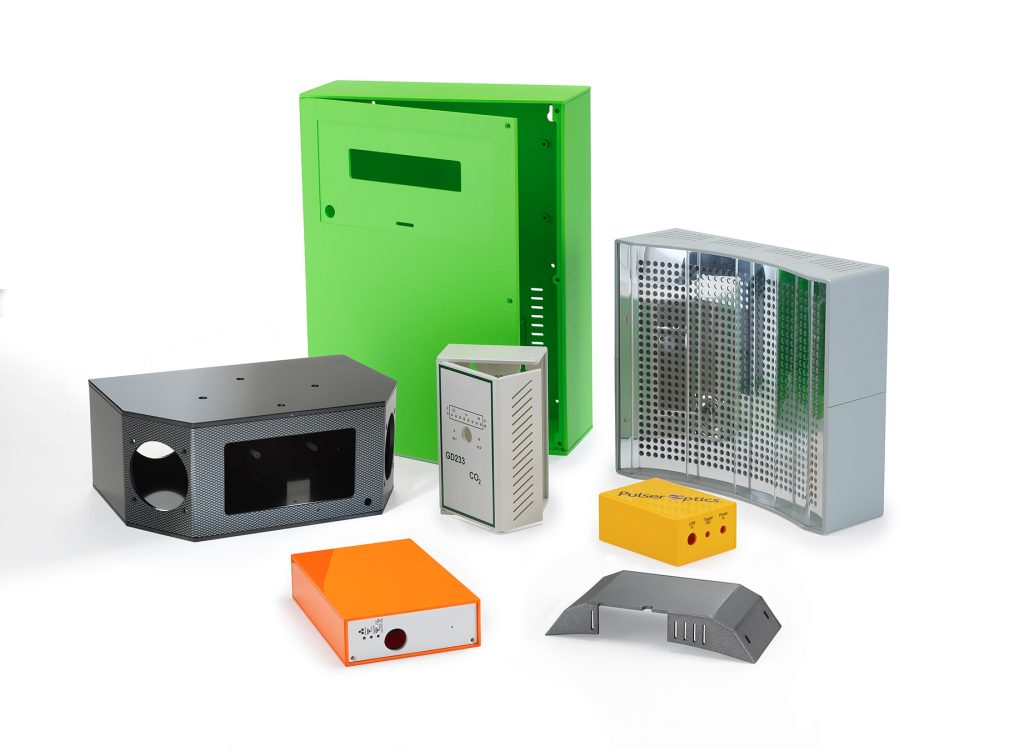 If you are looking for plastic electrical boxes, speak to us on 01280 845530. We're the UK's leading custom electrical box specialist with over 35 years of experience in the design and manufacture of mould-free custom cabinets, cases and boxes.
Our robust plastic boxes protect wiring and cables and electrical equipment from environmental conditions like direct sunlight and heavy rain. They also offer protection from impact, contaminants, and radio and electromagnetic interference.
Plastic boxes are perfect for electric applications as they are lightweight, durable, fire resistant and poor conductors of heat.
Check out our custom electrical boxes cases studies.
---
Custom Electrical Boxes in Plastic
Since 1986 we have been making electrical box prototypes and low-volume runs (up to 10,000 units). We can fabricate electrical boxes in any shape, size, and configuration to meet your needs. Our unique tooling-free process offers a cost-effective, flexible solution with no expensive moulds needed.
We can also supply waterproof boxes, working closely with you to ensure that your plastic electrical boxes are suitably weatherproof as required.
We stock a wide range of plastics in a variety of colours and also offer a choice of screen printing, digital printing, RFI shielding and decorative paint finishes to your custom-made enclosure. Our in-house team can advise you on the material that is best suited to your budget and brand requirements.
---
Why Use CDT for your Bespoke Electrical Boxes?
Peace of mind. Our attention to detail ensures that our custom boxes not only look good but perform as they should. Our experienced box designers will work closely with you every step of the way to ensure your prototype enclosure meets your specifications and that you avoid the common pitfalls.
Enclosure specialists. Established in 1986, we only focus on the design and manufacture of plastic box solutions in the electrical enclosures market.
On schedule and on budget. We combine technical expertise with outstanding customer care and can deliver a speedy, proactive custom box solution that is shipped on schedule.
So, whether you are looking for custom electrical cabinets, hinged electrical enclosures, pole-mounted electrical enclosures or custom electrical enclosures – we can help.
See what our electrical box customers say.
---
What next?
Why not come and visit us at our facilities in Brackley in Northamptonshire. Be inspired and get ideas for your next electrical box project. You can see the process in action, meet our team of plastic fabrication experts and browse our extensive box gallery. Alternatively, we are happy to visit you to find out about your enclosure requirements.
Email your CAD file or drawing along with a specification to sales@cdt123.com or call us on 01280 845530 to discuss your requirements. Alternatively, contact us and we will be in touch.
---
Get a custom electrical box quote today!
We'll put together a quote for your electric plastic boxes and work with you to get started on your project. Let's build something together.
---
'Having worked with CDT for many years; CDT has proved themselves to be creative and innovative in design while working at a fast pace to deliver a very high-quality product.
Bruce M, Operations Manager, Telecomms Technology Specialists
London