Don't settle for a standard off-the-shelf plastic box.
A custom plastic enclosure means you do not have to compromise on the design or quality. You enjoy rapid turnaround times, no expensive mould costs, better aesthetics and no restrictions on changes, size or quantity.
We fabricate custom clear covers, housings, bezels, screens, lids, boxes, enclosures, parts or casings as required. Check out our custom plastic enclosures case studies.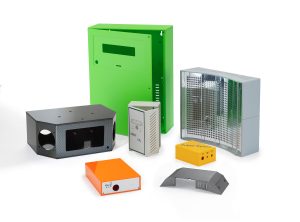 Established in 1986 we use state-of-the-art CNC machinery to create quality, custom plastic with:
Close tolerances
Fast turnaround times
No MOQs or tooling costs
Cost-efficiency for low quantities
Flexibility of design
We work in partnership with customers to provide a professional, proactive service. So, for your next electronic, industrial, electrical, marine or Raspberry Pi enclosure project – talk to the plastic enclosure experts. We can help.
---
Custom Enclosures with No Tooling Costs
​A custom plastic enclosure is a cost-effective solution relative to injection moulding, especially for low-volume box products. Also, a bespoke fabricated enclosure means when you upgrade your product or the technology changes you are not stuck with an expensive, obsolete injection mould and have to start again from scratch.
---
No Minimum Order Quantities
At CDT there are no minimum order quantities. We do production runs as low as one all the way to the 10,000s for your next waterproof boxes for electronics, din rail enclosures, rack mount enclosures, wall mount cabinet enclosures, screen enclosures, tablet enclosures, LCD enclosures, ABS enclosures, IP rated enclosure, clear plastic cases, PCB enclosure projects.
FYI the maximum order quantity for fabricated plastic enclosures is usually dictated by price. The point at which injection moulding becomes a viable, cost-effective alternative to custom-designed enclosures depends on factors including design, materials used, size and the life cycle of your product.
---
What Next…
We welcome customers and prospective customers to visit our facilities in Brackley, between Banbury and Milton Keynes. Come and visit us and get inspiration for your next plastic prototype project. You can see the whole process in action, meet our team of plastic fabrication experts and browse our extensive product gallery. Alternatively, we are happy to visit you to find out about your enclosure requirements.
Get in touch with a CAD file or drawing along with a specification and our expert team will help you select the right materials to ensure you have the best solution for your project. Call us on 01280 845530 or email us at sales@cdt123.com.
---
Why not check out what our custom plastic enclosure customers say.
'We have worked with CDT for over 10 years for prototypes through to full production and never had a problem.  If only all companies were like CDT.  As a company, our measure is the millisecond whereas CDT is always mm perfect!'
Richard P, Precision Engineers
Sheffield