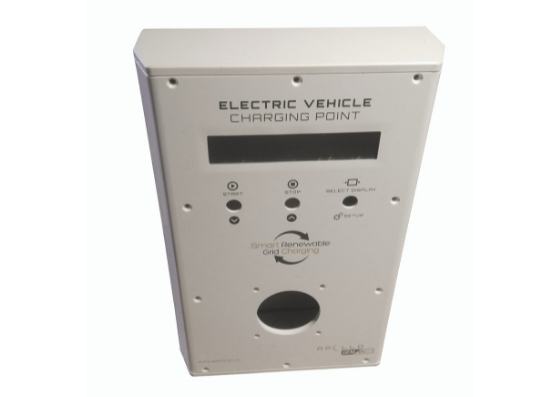 Having developed various electric vehicle (EV) charging enclosures over the years, we were the obvious choice to design and manufacture these robust weatherproof plastic enclosures for this new Midlands customer.
Working with them we helped to make these weatherproof enclosures not only durable but stylish as well.
The dimensions of this custom weatherproof EV charging enclosure: Width – 21.5cm reduced to 19cm, Height – 32cm, Depth – 8cm
Weatherproof Plastic Enclosure for EV Charging Overview:
This EV charging enclosure unit consists of 2 interlocking U sections. These clips together to create a durable, water-resistant plastic enclosure that is wall mounted. It is screwed to the wall via holes in the back of the unit. The neat, streamlined design has a variety of cut-outs for charging points and an acrylic display LCD screen.
This compact electric vehicle charging enclosure unit has been designed for both inside and outside use – so weatherproofing it was important. Thus weather-sealed washers to stop water ingress were used to help to make it suitably weatherproof.
In addition, it is made from 6mm ABS white gloss plastic it is branded with 2 colour screen printing. It has a robust and ergonomic feel, perfectly suited to its environment and application.
Bespoke Weatherproof Plastic Enclosure Manufacturer
As an expert enclosure manufacturer, we design and manufacture custom, water-resistant enclosures to meet your specific brand and design requirements. So, if you are looking for an expert, one-stop shop with no minimum order quantities for your next bespoke weatherproof plastic enclosure – please contact us.