As UK plastic fabrication experts, we offer a cost-effective solution for prototypes and low volume custom made plastic boxes when an off-the-shelf standard enclosure can't house your electronic components, or meet your brand or styling requirements.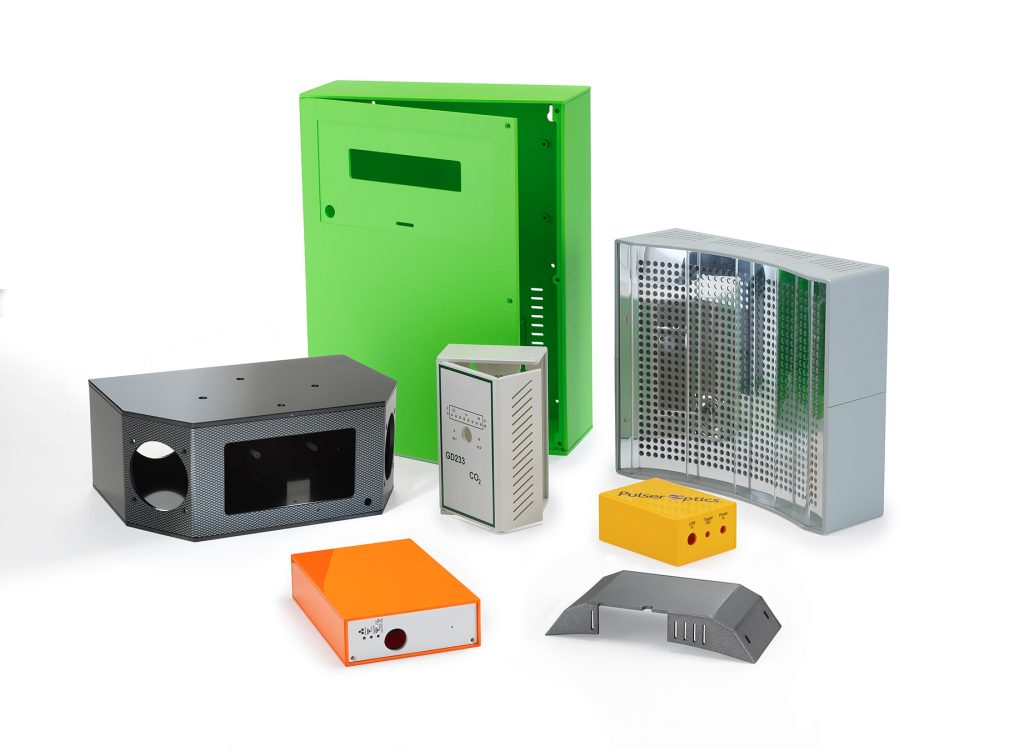 A custom made plastic box from CDT means:
no minimum order quantities or expensive tooling costs
close tolerances so parts fit closely together to prevent ingress of solids and liquids
fast turnaround times
ease of assembly
cost-efficiency for low quantities
flexibility of design
See what our box and enclosures customers say.
---
What Custom Plastic Box Options are Available?
A custom box means you can any box shape, style, material or size within reason! It is built to your specifications to suit the environment and how it will be used.
As a box and enclosure specialist, we can produce prototypes and small runs of boxes for clients across the UK. They are used to house electronics, Raspberry Pi, industrial, marine or electrical components.
We work closely with our clients to ensure our custom enclosures are suitably weatherproof or waterproof as required. Also offer UV resistant and flame retardant plastics composites and a range of plastic materials from economy to recycled and UL94-V0 listed grades including ABS, HIPS, Polycarbonates, Acrylics, and Carbon Fibre effect.
Popular custom box types include electronic waterproof boxes, wall mount enclosures, screen enclosures, tablet enclosures, LCD enclosures, ABS enclosures, instrument enclosures, IP-rated boxes, din rail enclosures, rack-mount enclosures, clear plastic cases or PCB enclosure projects for UK customers.
---
See our bespoke plastic box gallery
We pulled out all the stops to design, manufacture and deliver 500 stylish custom audio-visual plastic boxes in just 2 weeks for a new customer in London. We worked closely with the client to…
We were delighted to design, manufacture and assemble this robust precision tool for an existing client in the aerospace sector recently. We worked closely with the client to develop a prototype that was strong, and…
Having developed various electric vehicle (EV) charging enclosures over the years, we were the obvious choice to design and manufacture these robust weatherproof plastic enclosures for this new Midlands customer. (more…)
Why use CDT?
CDT, formerly BafBox, is one of the UK's leading plastic box manufacturers. Our expert design and engineering team work with you to design and prototype a plastic box to meet your requirements. At our facilities in Brackley, Northamptonshire we create custom, high-quality, plastic boxes. We take away the stress and uncertainty of developing your box idea from concept to prototype. With our input, your finished box is delivered on time and on budget without compromising quality.
---
What next?
We can come and meet you to discuss your project or you can visit us at our facilities in Brackley north of London near Oxford and Milton Keynes. Our team of industrial enclosure experts can help you design and build the best plastic industrial cabinet for your requirements.
So, talk to us without obligation. We are happy to chat through your requirements and assess whether our custom plastic boxes are a good fit for you. Call us on 01280 845530, or contact us, or email us at sales@cdt123.com.
---
Get a custom made box quote today!
We'll put together a quote for your custom plastic boxes and work with you to get started on your project. Let's build something together.
---
'Delighted to recommend plastic enclosure manufacturers, CDT in Brackley. We have been working with Ian and the team for 4 years, designing and building charging racks, chip and pin cradles and the latest being cash till converter. They work to high standards and provide a proactive, professional custom design and build service. Their attention to detail (ATD) is second to none!
We knew what we wanted but after sitting down with the design team at CDT it was clear that their input was invaluable and working together ensured we ended up with more than we had ever imagined.'
Oliver W, Corporate Services Manager, Technology Support Company
Dudley, West Midlands