Looking for a waterproof Raspberry Pi enclosure for outdoor use? Whether you need a waterproof box for electronics or an IP65 enclosure to house your camera, sensor or controllers, CDT can help.
Established in 1986 in Brackley in the UK, we design, prototype and manufacture high-quality, custom plastic weatherproof enclosures for a variety of sectors and markets including industrial, marine, electrical and electronics.
---
Weatherproof Raspberry Pi Cases for Outdoor Use
As a tried and tested custom enclosure manufacturer with a strong customer focus, our weatherproof Pi boxes can be wall or pole mounted, or hand-held as required. Customised features can include holes, cut-outs, mounting options, latching configurations, hinge configuration, viewing windows, EMI/RFI solutions and printing.
We stock a wide variety of different coloured plastics made from polycarbonate, ABS, Polypropylene and high-density polyethene materials. Our expert team can guide you on which material best suits your requirements.
Why not check out what our custom plastic enclosure customers say.
---
How We Work…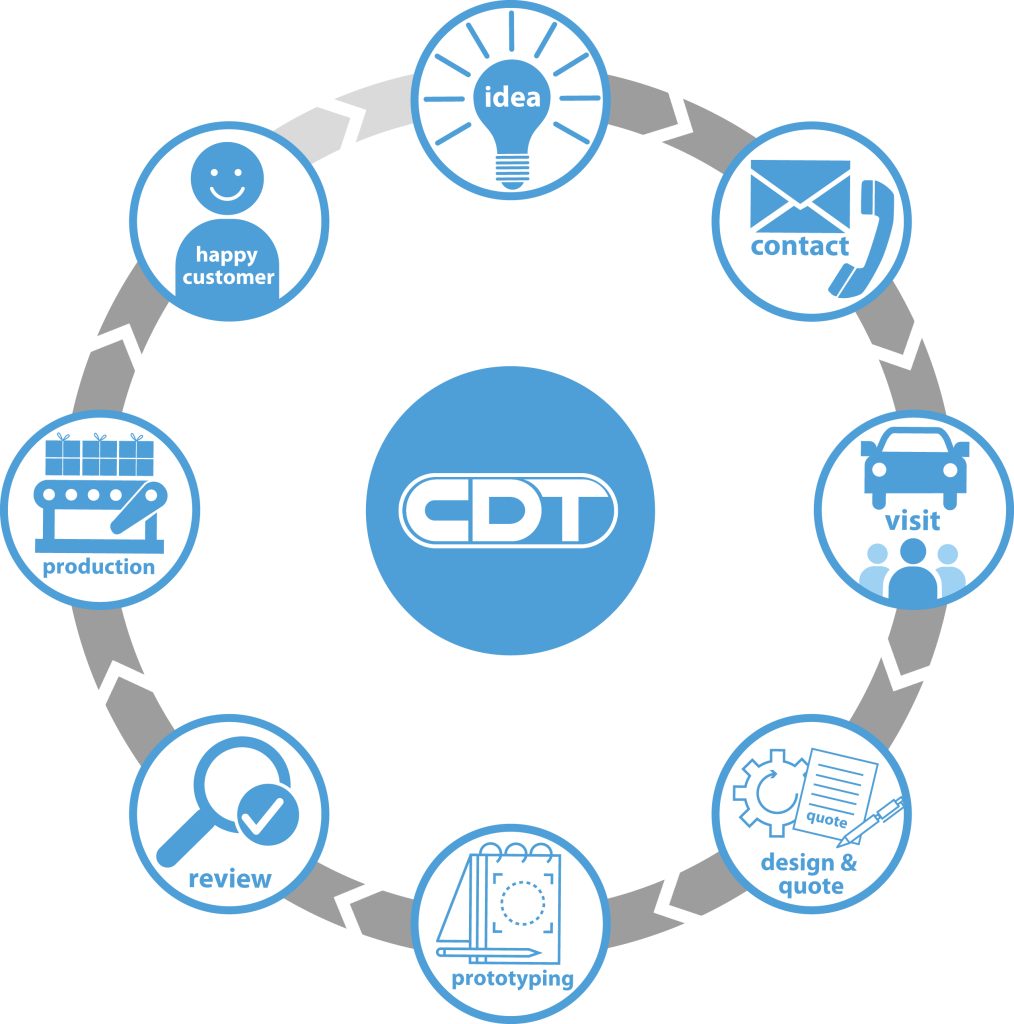 Contact us to kickstart the Process. We will arrange to come and visit you. This way we can gather as much information about your product and what you would like to achieve with your weatherproof plastic enclosure.
Specify your Waterproof Design. We are able to advise on the types of plastic material, finishes and best construction and assembly available which will best suit your project.
Quote. Once all these elements come together, we will be able to generate a quote. We normally allow 48 hours to generate a quote and design. This does vary depending on the complexity of the product or on our current workload.
Enclosure Prototyping. When we get the go-ahead, our design and engineering experts work collaboratively with you.
Production. Once the prototype is signed off, we start production by CNC which enables us to transform a flat piece of plastic into your custom plastic enclosure or case. Once the parts are programmed, manufacturing begins.  Our expert team start the machining to produce the cut-outs, recess, slots, etc.  Then the parts are expertly processed, printed, bent and assembled as required. Production can take 4 to 6 weeks depending on complexity, additional processes and the quantity required. We can accommodate rush jobs depending on the requirements.
Quality Checks & Delivery. At the final part of the plastic enclosure manufacturing process, we quality check all cases and enclosures to ensure they meet your requirements and our quality standards. We then use tracked delivery to ensure your custom enclosures arrive safely and on schedule. So, whether you are looking for a one-off prototype or a small to medium run of weatherproof/waterproof custom enclosures talk to us. We can help.
---
What next?
We welcome customers and prospective customers to visit facilities in Brackley, between Banbury and Milton Keynes. Come and visit us and discuss your custom Pi weatherproof enclosure project. You will see the process in action, meet our team of fabrication experts and browse our extensive product gallery. Alternatively, we are happy to visit you to find out about your enclosure requirements.
Email your CAD file or drawing along with a specification to sales@cdt123.com or call us on 01280 845530 to discuss your requirements. Alternatively, contact us and we will be in touch.
---
Get a custom Pi enclosure quote today!
We'll put together a quote for your plastic Pi casing or enclosure and work with you to get started on your project. Let's build something together.
---
As Raspberry PI custom enclosure specialists, we happily designed and manufactured this automated blind controller enclosure for an existing client in the Midlands. It has been designed for indoor use in a dark grey…
We designed, manufactured and assembled a large order of custom Raspberry Pi weatherproof enclosures for an inventory control system used in high-volume manufacturing. Robust Raspberry Pi Control Enclosure Working in partnership with the client,…
We designed, prototyped and manufactured these custom screen enclosures which help manage energy in social housing for an existing Nottingham client. As they were going to be used in public-facing settings, they needed to…