When off-the-shelf plastic casing can't be found to suit your requirements. We can help. We offer quality custom fabrication in any style, shape, configuration or size to meet your casing needs.
As a leading enclosure manufacturer, we design, prototype and manufacture custom plastic casings for Raspberry Pi, electronics, marine, electrical and industrial projects across the UK.
---
Custom Plastic Casing Expertise
Established in 1986, we fabricate custom casings, covers, housings, parts, bezels and screens. There are no minimum order quantities, and our rapid turn-around times mean you enjoy a fast, hassle-free service for prototypes and small to medium production runs.
As UK plastic fabrication specialists, we work with you from project conception and design to production and delivery. With no mould tool costs, stylish aesthetics and no restrictions on changes, size or quantity we are the go-to custom plastic casing experts. Casings we manufacture include waterproof or IP-rated casings, ABS and polycarbonate casings, clear plastic cases and Raspberry Pi casings.
See what our custom plastic casing customers say.
---
Check out our Examples of Custom Plastic Cases…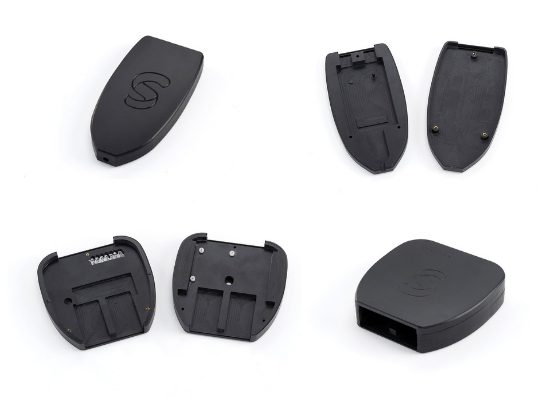 Outdoor Custom Casing
Designed and manufactured a small run of 20 custom electronics casings for a specialist electronics engineering manufacturer in Surrey. The tracker casing was designed for both indoor and outside use and has a robust, water-resistant design. It is milled from solid plastic so that the internal components fit snugly into their designated area.
Made in a stylish, tactile, black 10mm High Impact Polystyrene (HIPs), a tough, rigid plastic material with high impact strength, this electronics tracker contains a PCB, USB connector and their branding screen printed on the front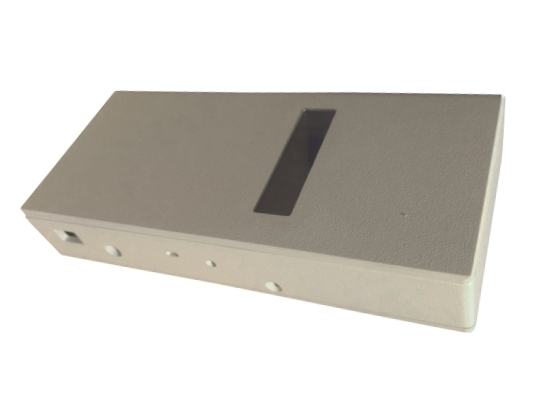 Meter Reading Casing
This cost-effective N2U electronic meter casing consists of 2 interlocking U sections which clip together to create a lightweight casing. Made from 4mm, off-white, fine grain, High Impact Polystyrene (HIP) it's hardwearing with a slimline design suited for wall mounting. It doesn't protrude from the wall like so many other standard off-the-shelf meter cases.
It has cutouts enclosing the dials and ports, plus a battery compartment and display module. Internally the design needed pillars to be bonded into the box to support the electronics. Internal inserts were also bonded in place to enable the box to be screwed together.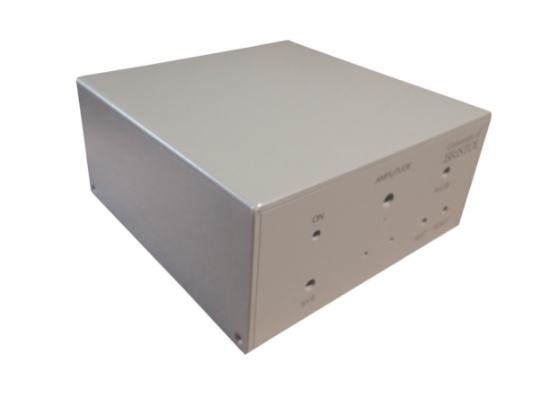 Plastic Casing for Amplifier
We manufactured this lightweight casing for a leading audio specialist. They wanted it to be robust and lightweight so that it could be easily packed up and transported for events. To keep costs down we used the popular N2U design which has two U-sections which can be easily clipped together.
Made from a robust 4mm, grey, fine grain, high impact polystyrene, it has cutouts for power supply, LEDs and connectors. Internally it has a recess, internal strengthening wall, and circuit board slot to support the electronics. The internal wall gives extra strength to the casing so that once it is in place it strengthens the entire unit.
---
What next?
Why not come and visit us at our facilities in Brackley north of London. Be inspired and get ideas for your next casing or cover project. You can see the process in action, meet our team of plastic fabrication experts and browse our extensive product gallery. Alternatively, we are happy to visit you to find out about your clear casing requirements.
Email your CAD file or drawing along with a specification to sales@cdt123.com or call us on 01280 845530 to discuss your requirements. Alternatively, contact us and we will be in touch
---
Get a casing quote today!
We'll put together a customised quote for your plastic case and work with you to get started on your project. Let's build something together.
---
'Delighted to recommend plastic enclosure manufacturers, CDT in Brackley. We have been working with Ian and the team for 4 years, designing and building charging racks, chip and pin cradles and the latest being cash till converter. They work to high standards and provide a proactive, professional custom design and build service. Their attention to detail (ATD) is second to none!
We knew what we wanted but after sitting down with the design team at CDT it was clear that their input was invaluable and working together ensured we ended up with more than we had ever imagined.'
Oliver W, Corporate Services Manager, Technology Support Company
Dudley, West Midlands