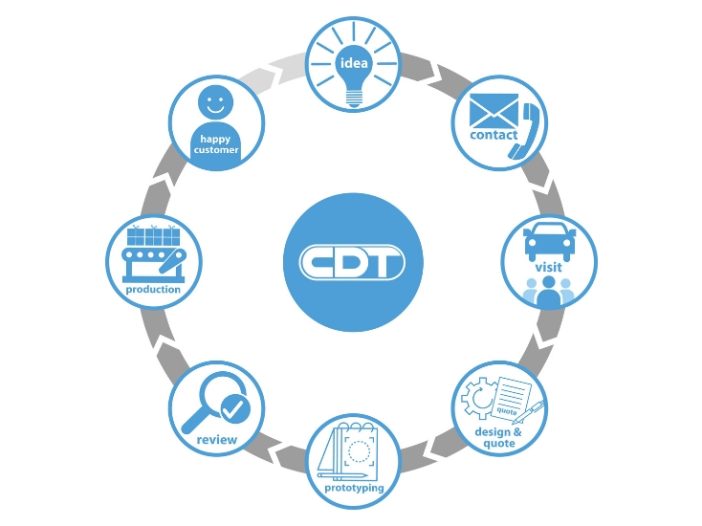 If you are looking for a plastic enclosure prototype. Then check out how the process works here at CDT in Brackley, as a tried and tested custom enclosure manufacturer with a strong customer focus we think it's pretty effective. The 7 steps in the design and manufacturing process include:
1. Idea. Once you have an idea of your product or have designed your electronics and start thinking about a custom plastic enclosure.
2. Contact. Then get in touch with our Sales Team. We will arrange to come and visit you. This way we can gather as much information about your product and what you would like to achieve with your prototype custom plastic enclosure.
3. Specifying your Design. We are able to advise on the types of plastic material, finishes and best construction and assembly available which will best suit your project.
The more information provided at this stage, the more accurate the quote and design. So, we suggest you take into consideration elements that will impact your enclosure design and build like:
Aesthetic considerations, for instance, colour, styling and branding.
Environmental factors like weight, hygiene, impact or chemical resistance.
CE or IP rating requirements that need to be considered.
4. Quote. Once all these elements come together we will be able to generate a quote. We normally allow 48 hours to generate a quote and design. This does vary depending on the complexity of the product or on our current workload.
Design factors that affect cost include painting, RFI Shielding, screen and digital printing as well as the labour/production time needed. For example, a large label recess increases the cost of machining the part because of the time involved for the cutter to mill it out. Similarly, if a part needs machining on both sides (this means increasing both the labour and machine time), or if a box needs pillars for PCB mounting, or other manual operations like fitting metal inserts, clear windows or bonding of assemblies. These time-intensive activities can push up the price.
Do note the quote given for the prototype won't change throughout the prototype process, however, if there are significant changes to the design, the quote for a production run may be different from the original quote.
5. Enclosure Prototyping. When we get the go-ahead, our design and engineering experts work collaboratively with you. Two main ways we do this are:
a) We either create a replica of your existing enclosure prototype with all the slots, feeders, grooves, etc if you have one. This ensures there are no surprises in the manufacturing or assembly stage.
b) Or if the design is at the concept stage, we adopt a more iterative approach which allows corrections and changes as required.  Once we have the concept and it is signed off, we develop the prototype.
FYI we can produce a plastic enclosure prototype in one to two weeks from order.
6. Production. Once the prototype is signed off we start production by CNC programming which basically enables us to transform a flat piece of plastic into your custom plastic enclosure or case.
Once the parts are programmed, manufacturing begins.  Our expert team start the cutting to produce the cut-outs, recess, slots, etc.  Then the parts are expertly sawed, printed, bent and assembly as required. Production can take 4 to 6 weeks depending on complexity, additional processes and the quantity required. We can accommodate rush jobs depending on the requirements. Do contact us to discuss this further. If required, we can custom assemble any components in-house.
7. Quality Checks & Delivery. At the final part of the plastic enclosure manufacturing process, we quality check all cases and enclosures to ensure they meet your requirements and our quality standards. We then use tracked delivery to ensure your custom enclosures arrive safely and on schedule.
If you would like to find out more about how we provide value-adding Plastic Enclosure Prototype solutions through our experience and expertise call us today on 01280 845530 or contact us.