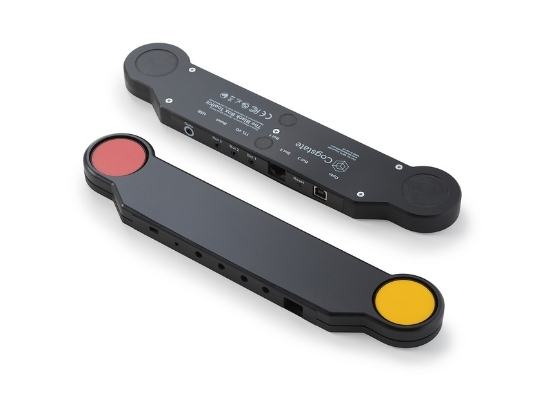 Here at CDT we had a lot of fun designing and manufacturing this response pad enclosure prototype which was made to look like a gaming controller. It has two parts – a response pad enclosure and a bullring clip with a pivot hinge and clasps with a spring-loaded mechanism to secure it onto laptops and tables.
The medical response system measures response times for certain medical conditions. It has an ergonomic design with a rounded bevel edge for a soft touch. In addition, it has a low profile and large buttons in primary colour which make it easier to use especially for those that may be frail.
Response Pad Enclosure Prototype
Made from robust 10mm HIPs the sturdy response pad enclosure has 3 parts clipped and screwed together with 4 posts for self-tapping screws and 4 brass inserts to screw the units together as well as a PCB with optimal diodes inside.
So, if you would like to discuss your next custom enclosure prototype please do contact us via our website or call us on (01280) 845530. Because as your one-stop shop for designed and manufactured custom plastic boxes, casings and enclosures, we can help.