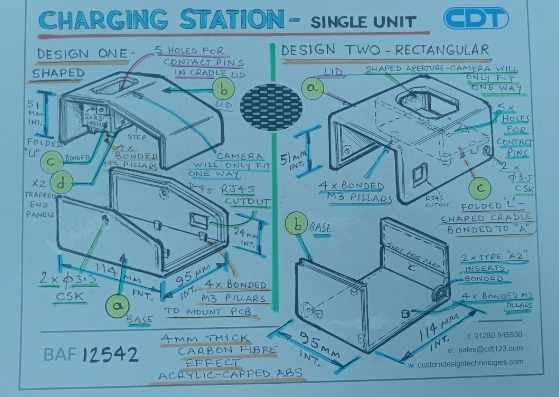 We were delighted to be awarded this contract by a new customer in Reading, to design and manufacture a set of stylish desktop charging dock enclosures for body cameras for the UK security market earlier in the year.
Sturdy, Stylish Charging Unit Enclosures
Working closely with this client, a camera manufacturer, we helped to create a sturdy set of two glossy desktop charging dock enclosures that met their rigorous specifications.
Both the single and 6 charging units are compact and have robust plastic enclosures to keep the electronics safe. We used 4mm thick, carbon fibre acrylic capped ABS plastic for this small run of plastic enclosures. The modern carbon-fibre effect finish ensured a sleek professional look, appropriate for their highly visible desktop use. Elements included a charging light, network and power ports, and L shaped cradle bonded to the enclosure.
We thoroughly enjoyed designing these charging units and then doing the electronic assembly on this project. The client was delighted with the new charging dock enclosure design and we look forward to working with them again in the future.
Getting in Touch…
So, if you would like to discuss your next custom, small run bespoke carbon fibre effect enclosure project please do contact us. We are your one-stop-shop for UK manufactured, custom plastic casings and enclosures with no minimum order quantities. Email at sales@cdt123.com or call us on 01280 845530. We look forward to hearing from you.