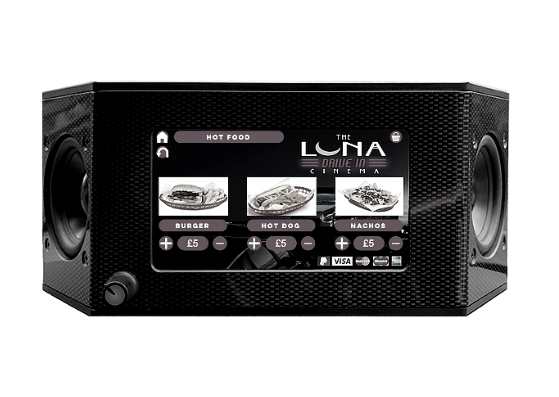 We pulled out all the stops to design, manufacture and deliver 500 stylish custom audio-visual enclosures in just 2 weeks for a new London customer over the Summer.  The end result was an AV enclosure product that enhances the drive-in movie experience by delivering a high-quality stereo sound with deep bass.
Custom AV Enclosure Features:
These portable, lightweight units are finished in a stylish motorsport Carbon Fibre with a 5.71-inch high-definition touchscreen that is WIFI enabled to allow the remote purchase of drinks and snacks.
Enclosure design includes an auto-mute when storage is stacked and a rear-mounted power switch. And dimensions were developed taking into account streamlined storage and charging requirements.
The London AV client was delighted saying 'Thank you for all your help getting this over the line – really appreciate the responsive service and attention to detail'
So, if are under a tight deadline and need help with your next custom plastic AV box project do call us on 01280 845530 or contact us via our enquiry form.