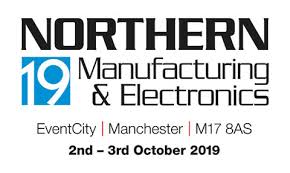 It's all happening in Manchester at stand B68 on 2 and 3 October 2019 at the Northern Manufacturing & Electronics – the North's premier industrial technology exhibition showcasing the latest machinery and production technology. See here for more info – remember admission and parking are free. So, do come and say hi to us.
Raspberry Pi 4 Giveaways, Free Enclosure Samples and a Show Discount
We can't wait – we're not only giving away 5 of the latest Raspberry Pis and free box samples but also offering a 5% discount on all orders initiated at the exhibition. It's the perfect opportunity for you to pick our brains about the latest box innovations while entering our Raspberry Pi 4 giveaway or grabbing a sample or two.
Meet the CDT team…
David, Ian and Peter (left to right) will be on hand and happy to share their expertise …and if you want to discuss your next prototype, we'll happily sit down with you over a tea or coffee to suggest possible concepts.
Remember we've been around since 1986 (formerly called Bafbox) so we know our stuff when it comes to plastic enclosure design and manufacturing. We are proud to be a British PCB design, assembly and plastic enclosure manufacturer.
So, pop over to stand B68 and see how we can help with your next electronics, touch-screen, DIN rail, Pi, or IP-rated enclosure or casing.