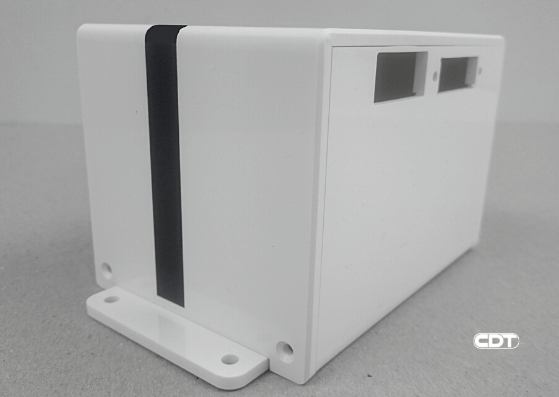 We recently designed and built this flexible, lightweight N2U enclosure prototype for Electrical Motor specialists in the industrial sector. They needed a one-off branded enclosure quickly for a trade exhibition that they were attending the following month. We sprung into action, burning the midnight oil and we were able to deliver their branded enclosure prototype to them on time and on budget.
Bespoke Custom N2U Enclosure Prototype
This lightweight, plastic custom N2U enclosure prototype contains a range of complex electronics for monitoring electrical motors with the aim of optimising preventable stoppages and providing predictive maintenance. With a requirement for flexible mounting options, we were able to offer, DIN rail, Panel and Wall mounting options, all within the same enclosure. Thus maximising the versatility of the enclosure across different display settings.
The customer was delighted with the speedy service and reported back that they had received lots of positive product feedback from visitors on their stand.
So, if you have an urgent custom plastic enclosure prototype project in the pipeline – talk to us. As experienced UK enclosure design and manufacturing specialists, we can help you meet your deadline. Contact us either via email at sales@cdt123.com or call us on 01280 845530 today.