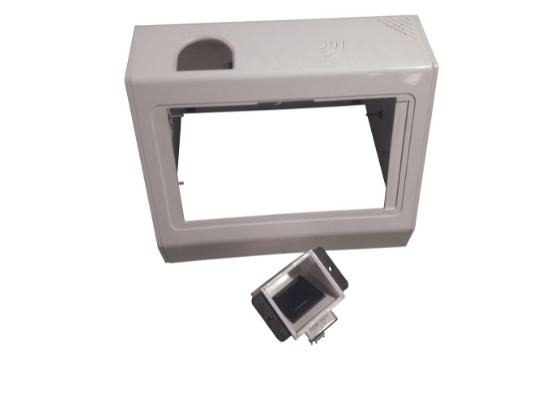 This month we are delighted to design and manufacture this high-tech, wall mounted plastic box for managing time attendance for a client. It has been built for industrial use and comprises a number of parts that house the latest contactless and fingerprint scanning technology.
The dimensions of this wall-mounted time attendance box: Width – 22.5cm, Height – 16.5cm, Depth – 18.5cm
Touchscreen Wall Mounted Box Overview…
This stylish, wall mounted touchscreen box has a separate fingerprint scanner unit built into the enclosure as well as the RFID contactless component.
This enclosure design incorporates a number of elements that are assembled using a set of bonding and fitting techniques. The main component part of the enclosure completes the overall face of the design, incorporating a series of folds. The face of the design has a clear LCD display window and numerous styling recesses.
Because this electronics enclosure is to be situated in a prominent position and is frequently in use in an exposed environment, the design is not only robust but aesthetically pleasing as well.
So, if you would like to discuss your next custom, wall mounted box or enclosure project please do contact us. Because as your one-stop shop for the custom plastic boxes and enclosures, we can help.