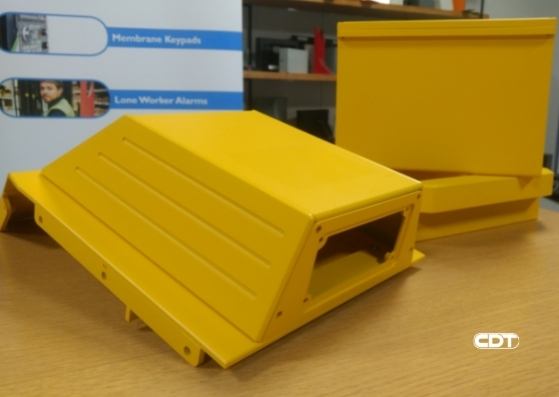 We were delighted to be awarded the contract to design and manufacture this unique set of weatherproof Industrial Impact Wrench enclosures for the UK transport sector earlier this year.
These robust custom plastic enclosures are designed to encase specialist wrenching equipment which is attached to a large, bespoke, portable frame. After comparing metal to plastic, the client chose to use a plastic enclosure rather than the heavier metal ones so that they could avoid issues with rust, sharp edges and weight.
Lightweight, waterproof, industrial impact wrench enclosures
Working closely with the client we helped to create a sturdy set of lightweight, weatherproof enclosures that met their rigorous specifications.
This small run of plastic enclosures was painted in an appropriate high visibility bright yellow, appropriate for outdoor use in the rail sector. They had numerous compound angles, meaning angles on both the sides and front. Overall it was a complex project that the team thoroughly enjoyed designing and building.
So, if you would like to discuss your next custom, small run bespoke industrial enclosure project please do contact us. We are your one-stop shop for industrial custom plastic casings and enclosures with no minimum order quantities.