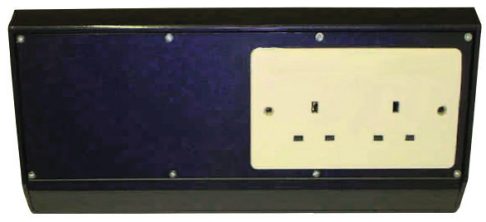 We were delighted to win the contract to manufacture these power socket custom housing units for the UK retail sector.
They have room for growth with the nifty pushout panels included so as more electric plug sockets are needed they can be used. And because they are to be used in retail environments they needed to be robust and match the brand colour requirements.
Custom Housing Overview:
Dimensions for the custom housing for electric plug sockets: Width – 33 cm, Height – 13cm, Depth – 13cm
This custom housing is a medium-sized, triangular plastic enclosure that neatly houses multiple electric plug points. There are a number of component parts to this enclosure that is bonded and fitted together. The two side panels actually screw into the main body of the enclosure, and when in their original state there are no visible holes. The holes constructed for the actual plug sockets to be placed in are pushouts that allow the same enclosure to suit more than one application. For example, in the photo above there is only one pushout removed for the power plug point leaving the rest of the panel blank.
The design incorporates 5 main cutouts, 2 on each side of the enclosure, and 3 small pinholes on the base. Internally there are 4 pillars needed to support the electronics, and there are a series of inserts to hold the screws in place once the side panels are installed.
For the final design, this customer has opted for a metallic dark blue paint application on the exterior of the box. This finish is very distinguishing and makes the enclosure very appealing to the eye. Unfortunately, this rich glossy colour cannot be fully appreciated through the digital photograph above.
This custom housing for the power source was made with 4mm, off white, High Impact Polystyrene, UL94V0, and fine grain plastic.
If you are looking for a custom enclosure manufacturer in the UK, contact us. We would be delighted to discuss your requirements.