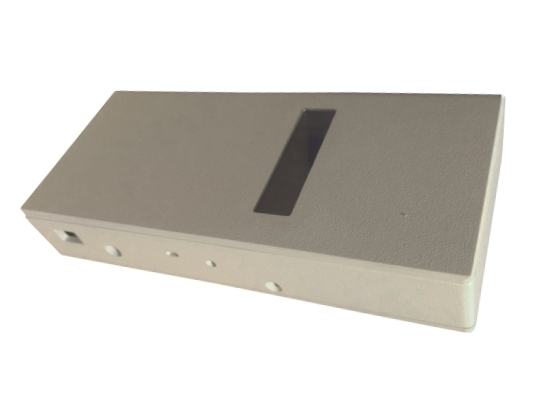 Another electronics casing is ready for shipping this week. Our tool-free UK manufacturing process means we can design and manufacture plastic enclosures swiftly and cost-effectively. Perfect for meeting this customer's tight deadline.
Electronics casing dimensions: Width – 8 cm, Height – 15.5cm, Depth – 3cm
Electronics Casing Overview:
This cost-effective N2U electronic meter casing consists of 2 interlocking U sections that clip together to create a lightweight electronics enclosure. Made from 4mm, off white, fine grain, High Impact Polystyrene (HIP) it is hardwearing with a slimline design suited to be wall-mounted without protruding from the wall like so many other standard off the shelf meter cases.
There are various cutouts enclosing the dials and ports, plus a battery compartment and display module. Internally this design also needed pillars to be bonded into the box. This aids and gives support for the electronics. For further strength and security, the design includes internal inserts bonded in place to enable the box to be screwed together.
Cost-effective Electronics Casing Manufacturing
Our cost-effective, plastic custom casing manufacturing requires no tooling – which means the client has no big, upfront tooling expenses. They can work with our expert designers to create a slimline meter enclosure that made it unique in its market.
So if you are looking for a cost-effective custom casing or enclosure talk to us at CDT, a leading UK enclosure manufacturer on 01280 845530 or contact us.