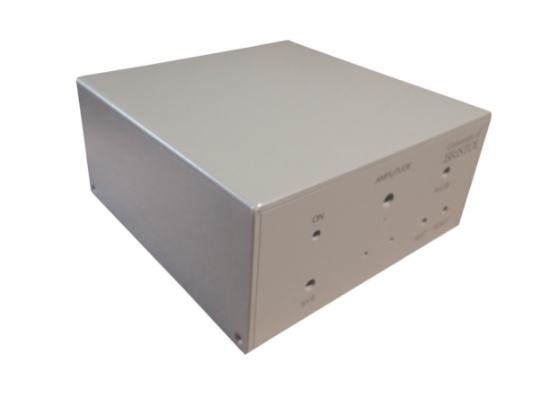 We were delighted to win the contract to manufacture this lightweight plastic enclosure for a leading audio specialist. They wanted their custom enclosure to be robust and lightweight so that it could be easily packed up and transported for events. To keep costs down we used the popular N2U design (a simple, cost-effective way of manufacturing a custom plastic enclosure).
Custom plastic casing dimensions: Width – 21cm, Height –9.6cm, Depth – 21cm
Amplifier Enclosure Overview:
This branded audio enclosure is a medium N2U design, featuring two U-sections that can be clipped together. It is made from a robust 4mm, grey, fine grain, high impact polystyrene. There are various cutouts for power supply, LED and connectors and it has branded screen printing on it.
Internally this custom manufactured plastic enclosure has a recess, internal strengthening wall, and circuit board slot to support the electronics and circuitry. The internal wall gives extra strength to the enclosure so that once it is in place it strengthens the entire unit.
Designed to be portable this robust amplifier enclosure unit has a tidy, functional design that is lightweight and can be easily transported.
Custom, Low Volume Plastic Enclosure Production
By using the CDT team the client benefitted from our technical expertise and extensive plastics know-how. Throughout the project, we worked closely with them to ensure a proper fit and finish. In addition, our custom manufacturing process allowed the client to lay out their circuit board and connectors without the worry of fitting into a standard moulded box.
So. if you would like to discuss your next custom audio enclosure project whether it's for handheld, desktop, wall-mounted or DIN rail applications – contact us. Your one-stop shop for custom plastic casings and enclosures.