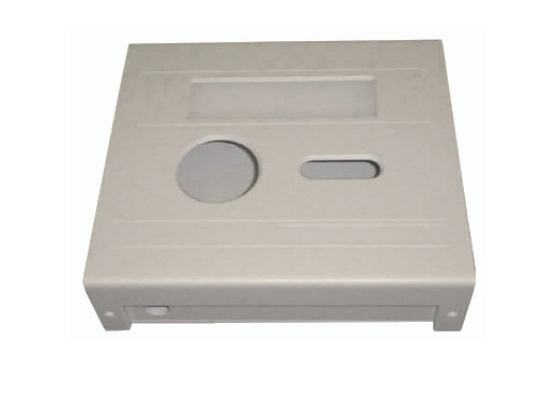 CDT to the rescue…
Another custom wall mounted enclosure was delivered! This client approached us having unsuccessfully tried to use a standard off-the-shelf enclosure for their temperature controller.
They were behind schedule and needed a solution fast. We were able to step up and deliver the prototype in time to meet their tight deadline.
Wall mounted plastic enclosure overview:
Wall mounted box dimensions: Width – 23.5 cm, Height – 6.5cm, Depth – 21.5cm
This custom wall-mounted enclosure box has 3 holes in the rear with extra bonded supports to fasten the unit to the wall securely and permanently.
There are three main cutouts to the front, one with a clear Perspex panel bonded on to protect the LCD display within. Also, includes recesses for styling and the company logo label.
Internally there are 4 pushouts and one cut-out machined into the side panel which once fastened to the wall actually becomes the base of the box. The pushouts are for various wires which go directly into the enclosure and therefore allow this design to be used in more than one application. Additionally, there are 8 pillars, 4 inserts (to secure the lid), and one bonded support to hold the electronics in place.
Local wall mounted enclosure manufacturer
As a local custom enclosure manufacturer offering a one-stop design and manufacturing service we could quickly create a sturdy, wall-mounted plastic enclosure to meet the customer's exacting requirements. To find more about our services please contact us or call us on 01280 845 530.